Posted by
stevencole84
in
Uncategorized
, tags:
The Best American Sports Writing
The Best American Sports Writing 2004
Episode 1: Making a Play for Players
By: Lisa Olson
Apparently women will do anything these day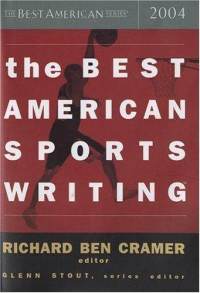 s to obtain fame.   The story starts out by describing two typical professional sports player hunters.   It seems as if one of the women is involved with a highly respected sports figure.   She is now well off.   She walks around the streets all day spending her man's money.   Mostly she was spending money on herself.   Self-image seemed to be a major concern for these women.
The other women was not as well off as the first one.   In fact, she is in a huge amount of debt.   She works hard and tries to make a good amount of money.   This seems pretty average, but it's not.   On the inside that women is still looking to find an athlete at any means nessesary.   Her friend funds her and allows her to be in a position to catch an unsuspecting athlete.
What these women are doing is highly unethical.   They know how to put themselves in positions of power.   All they have to do is use sex.   Of course, this can sometimes be a dangerous thing.   There is the possibility of being caught, catching a disease, getting pregnant, and in some cases things can get violent.
But how can you blame them.   Today the media focuses soo much attention on athletes that people will do anything just to see them.   Athletes have become some of the most desired people.   They make a lot of money, are in pretty good shape, and have access to a life of fame.
The fame is really what most of the women want.   They see that by using an athlete they can get plugged into a different social class.   A social class they may not be able to enter without giving themselves to an athlete.