Posted by
stevencole84
in
Uncategorized
, tags:
Michigan State
,
Ohio State
,
Osbourne high school
,
Radford University
,
Stonewall high school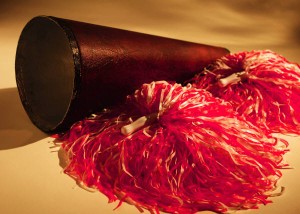 Going into her sophomore year of high school in 1973, Carolyn Rodenburg was ready to leave behind the drama that was her family life.
As a child, her parents' relationship was a constant struggle.   Her parents would fight for hours and would consistently overlook their children's needs.   Carolyn grew up in a little three-bedroom house in downtown Manassas, Va., with her three brothers.
Sitting down in her dining room on April 11, 2011, Carolyn told me.   "Gary was the oldest.   He was the one we all looked up to.   He led by example.   He was a straight A student and was active in many school sports."
"Dale was the second oldest," Carolyn said.   "He followed in Garys' footsteps and would always try to out-do Gary at any opportunity he could get; sometimes he would.   Gary and Dale would constantly compete.  But, the competition between them was a good thing because they were always pushing each other to be better.   All they had was the competition between them.   They used this as an escape.   I was the third child and the only girl.   My brothers looked after me. "
"Then came my younger brother Johnny," Carolyn said.   "I was the closest one to him because my other two brothers were concerned with more mature things.   I raised Johnny and for a while we were best friends."
Her walk from elementary school took her past Stonewall Jackson High School.   She would often stop for a little bit to study the cheerleader's routines.   As the years rolled by, her family life got worse but her love for cheerleading became greater.   Cheerleading had become an escape for her.   She knew she wanted to be a high school cheerleader and she dreamed of one day wearing a Stonewall uniform.   She would practice the routines she saw with her younger brother Johnny in the front yard.
However, as her freshman year of high school got closer, her parents' relationship was coming to an end.   The summer before she was to start high school at Stonewall, her mother discovered that her father had been seeing another woman.   The tension between her parents had put her dream of cheerleading one year out of reach.
After her parents finalized the divorce, her mother soon met another man and got married.   Carolyn was then informed she was going to move in with him.   She would no longer be attending the high school she had always dreamed of.   Instead she had to attend the rival school, Osbourne.   Her new step-father had no interest in raising kids and made that very apparent.
"I would always feel like he never wanted us," Carolyn said.   "He would hardly ever talk to us, and when he did it would be something nasty.   He never took an interest in anything us kids did.   In fact, he would sometimes discourage us from doing things that would make us successful.   There was no love in that house and everybody knew it.   I had to find an escape."
Cheerleading was her escape.
Because she had to move, she wasn't able to register for cheerleading in time.   She still practiced daily because it made her feel good.   She knew that the very next year she would have her chance.
"The reason I loved cheerleading was because it gave me reason to get out of the home," Carolyn said.    "It became more than just a sport to me, it became a passion."
When her sophomore year came around, she finally tried out for the JV squad and made it.   Since she had never been on a squad before, it took her some time to learn and adjust.   Her dedication elevated her to one of the elite members on the squad.
In the summer after her sophomore year, she attended her first cheerleading camp at Old Dominion University.   The camp consisted of more than 50 schools from all around Virginia.   Each squad had to compete against each other until there was a clear-cut champion.   Her squad persevered all the way to the final round where she had to face none other than the school she idealized as a child, Stonewall.
As the results came in, she knew she had beaten the school she once dreamed of cheering for.
"It was at that moment that I knew I could do great things with cheerleading," Carolyn said.   "The gratification and success had finally come."
Little did Carolyn know that a video of her final cheer at camp had been sent to be judged nationally.   Her junior year had started, she made the varsity squad, and she was ready to improve her cheering skills.
"The principal called everyone in the school to the gymnasium and they announced that we were chosen as national champions for all the camps," Carolyn said.
The Osbourne football program hadn't won a game in 13 years, but after the announcement was made, the bleachers began to fill up.
"People had come to see us cheer," Carolyn said.   "Sometimes, fans would forget there was a football game going on because they were too focused on us."
After high school, Carolyn attended Radford University.   She had to work a job in the cafeteria at Manassas hospital in order to pay for her first year tuition.
"I loved being a Radford Highlander cheerleader," Carolyn said.   "We got special privileges and got to travel to many different universities."
In her sophomore year, she applied to be an instructor for the United States Cheerleading Association.   She gathered many photographs of herself and recommendations and sent them in for consideration.   They accepted her application and invited her to come to the first round of try outs at Ohio State University.
"In order to get there, I had to get an on-campus job as a proctor," Carolyn said,   "where I would sit in the lobby of the men's dorm and not let girls in.   I worked all through the nights on weekends.   The try-out day happened to be on a weekend.   So, I had to work all through the night, then drive up to Ohio State in the morning.
"After all this, I had to get ready to compete with hundreds of girls and boys from the East Coast.   There was literally no break I made it just in time and had to find the energy to compete in Ohio State's football stadium.   It was all worth it because I made it to the second cut."
The field had been narrowed from 500 people to 100.   Those 100 people selected had to go to Michigan State University to compete for the final 32 spots a month later.
Returning to Radford, she had a month to prepare for the final cut.   She spent that month trying to raise the money to travel to Michigan, but as bills piled up in her mail box, she realized she wasn't going to be able to afford to make the trip.
"My mom never gave me a penny in my life," Carolyn said.   "But this time she gave me $75 for a plane ride.   It was my first plane ride ever."
With the financial help from her mom, she was able to afford a plane flight and a hotel room for one night.   The added boost allowed Carolyn to focus all of her energy on cheering.   She competed for one of the final 30 spots and succeeded.   They assigned her to the West Coast squad, which consisted of five girls and a chaperone.
"We went through 25 different states that summer," Carolyn said.   "We would travel in a station wagon for three days then have camp for four days.   I got to see many different college campuses and meet all sorts of people.   I was truly blessed to be able to do this."
Carolyn returned to Radford a more mature and experienced woman and was made captain of the cheerleading squad.
But, no matter how successful she became, she could not escape the problems that surrounded her family life.   On Thanksgiving Day, Carolyn received a call that would change her life forever.   Her mother had passed away unexpectedly earlier that day.
Her family was never the same.   She returned home for the funeral and sought comfort among her brothers.   Leaving the funeral, she said goodbye to her step-father for the last time.   Early in her drive back to Radford, Carolyn decided to visit her childhood home.   Like always when she got home in the past her younger brother Johnny was waiting for her.   This time was no different.
Carolyn graduated from Radford University in 1981.   She had accomplished something no cheerleader had ever accomplished.   She was the first four year cheerleader and two year captain Radford had ever had.
Like she had done so well in the past, she used cheerleading as an escape.   But no matter how much cheerleading she did, she could never fill that void of a loving family life.
Carolyn graduated from Radford University in 1981.   A couple years went by, and she decided to tryout to be a Washington Redskins cheerleader.   With all of her passion and determination, she made it past 300 women and to the final round of cuts.
But, just one day before the final round, she was hit with more information that would change her life.   She was pregnant.   She knew that the thing she used for so many years to escape had to come to an end.
On Oct 12, 1984, Carolyn gave birth to her first child, Stacy.
"As I looked at my new baby girl, I knew I had the family I had always dreamed of," Carolyn said.   "I finally had something to really cheer about.   I was given a bigger purpose in life.   I taught my daughter everything I knew about cheerleading and I thank God every day for the opportunities I had."