Posted by
stevencole84
in
Uncategorized
, tags:
Darrell Green
,
Paul Tagliabue
,
Washington Redskins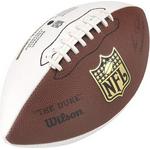 Last Wednesday was my girlfriend's birthday. So of course I l told her we could do whatever she wanted to do all day. Then she hit me with all the requests.
She wanted to go shopping, eat at a nice restaurant, and see a movie. So I thought no big deal, all of those things don't sound that bad. After shopping for about an hour at the mall she wanted to go to a different store. The store was a thrift store. I hadn't been to one since I was young so I was a little nervous.
When we got to the thrift store I was impressed by its enormous size. I had never seen a thrift store like this one. After entering the front doors I noticed that I was a little out of place. The store wasn't as clean as I would have liked but I decided to give it a chance.
After about an hour I became extremely bored. My girlfriend was completely entranced in shopping so I decided to wonder myself. After looking at what seemed to be a bunch of useless stuff I found a bin of sporting equipment. The bin had been pushed under a collection of blankets and didn't look as if anyone had looked through it in a while. I noticed a basketball at the bottom of the bin so I decided to get it out. Just about two weeks prior to this I was at a local park and I left my basketball behind and when I went back it wasn't there.
I started pulling some of the equipment out and placing it on the floor beside me. As I got deeper in the bin the equipment seemed to be getting older. I noticed a wood golf club, a wooden baseball bat and a rugby ball. After removing a Hockey mask from the bin I noticed a white panel football. When I examined the football closer I noticed that there were two signatures on it. The first signature was a printed on signature from the NFL's former commissioner Paul Tagliabue. The second was a real signature that was done in black marker. To my surprise it was a Darrell Green autograph.
The price tag on the football was two dollars and 93 cents. So, I decided to buy it. I am unsure of its true value but I intend to find it. Even if the football isn't worth more than a couple of bucks a Darrel Green autographed football deserves more than to be smashed in a bin at a thrift store.
Darrell Green is a Washington Redskins legend.

No Comments »