Posted by
stevencole84
in
Uncategorized
, tags:
Boise State
,
Virginia Tech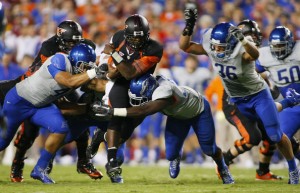 The game was an exciting nail-bitter all the way to the end but the real story took place in the stands.
The day was September 6th, 2010.    I awake much earlier than I normally do.   The day started for me at 7:30 am.   I was scheduled to meet some of my friends at the local Harris Teeter grocery store where a 70 foot RV would take us to Fed Ex field in Landover, Md.   When I arrived at the grocery store I met up with ten of my close friends that I have known for many years.   Four of them went to Virginia Tech and were very excited to go to Fed Ex field and see their number 10 football team play number 3 Boise State.   The other six of us had attended different colleges and weren't huge VT fans but we went for the good times.
On the way to Fed Ex field we had a great time in my buddies 70 foot RV.   The RV was equipped with five flat screen T.V.'S, a bathroom, 3 beds, a full kitchen, and two couches.   And how could I forget the full bar.   It took us about an hour to finally reach our destination.   We parked next to other RV'S and made friends very fast.   We hung out around the RV for a couple of hours until it was time to go into the game.   My buddy Tyler had told me that he had our tickets in his pocket, so obviously I trusted that they would still be there.   All ten of us walked to the stadium and were ready to go in.   When we got to the gate I asked Tyler if he had our tickets and when he reached into his pocket they weren't there.   He had lost them at some point in the day.   So as we watched our other friends enter the stadium we had to figure out a way in.   Since all of our friends had club level seats we knew we had to find a scalper with club level seats for sale.   We spent about 30 minutes looking for club level tickets but we had no luck.   Unfortunately all we could find were 30 dollar upper level seats.   So we bought them off of what seemed to be a trustworthy scalper.
The tickets we had got us into the stadium.   When we arrived at our seats we noticed that there were two people sitting in them.   I asked the people to show me their tickets and so they did.   When I looked at their tickets I was in shock.   Our tickets and their tickets were exactly the same.   We had bought counterfeit tickets.   After much dispute we finally went to customer service where many of the employees were reluctant to give us different seats.   Finally, they gave us two more tickets right around the previous seats.   When we got to those seats there was a giant pole in front of them.   After contemplation I decided it wouldn't hurt to go back and ask for different seats.   When we went back to customer service a nice lady reached into a manila envelope and pulled out two tickets and said, "I hope these tickets work out better than the last ones".   To my amazement when I looked down I noticed that she had given us club level seats.
We rode the escalator all the way to the club level and met up with our friends after a huge ordeal.   When we got to the club level we were greeted with many beverages.   Even though Virginia Tech lost we still managed to salvage a great time out of the whole situation.   On our walk back to the RV Tyler had to stop at the Porto potty because he had one too many beverages.   As I was waiting outside I noticed on the ground near a trash can what seemed to be a very familiar envelope.   When I opened the envelope I saw our two club level seats.   I told Tyler and he said they must have fallen out when he threw a can away.

No Comments »