Posted by
stevencole84
in
Uncategorized
, tags:
Blaine Gabbert
,
Cam Newton
,
Jasckosnville Jaguars
,
Julio Jones
,
NFL
,
Patrick Peterson
,
Washington Redskins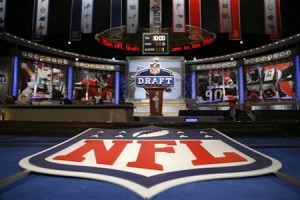 The NFLs presentation of Draft day was over celebrated despite the looming possibility of no football next season.
Once again, i found myself getting all excited for Draft Day last Thursday Apr 28.
Me and a couple of friends of mine always go to a local bar to watch the coverage of the NFL draft and this year was no different.   And every year i watch as the Washington Redskins make good draft picks and yet they cant seem to put together a winning season.
As Mike Shanahan goes into his second year as Head coach, i thought he may have some tricks up his sleeves.   And that was exactly the case.   Since the Redskins had the tenth over all pick i was certain they were going to draft a quarterback because right now our team needs a leader.
After Donovan McNabb came to town and basically was mistreated by the Redskins organization, we have been forced to look else where for leadership.
Some of the players in the 2011 NFL draft that i thought we were going to pick were.
Blaine Gabbert
Julio Jones
Patrick Peterson
Nick Fairley
And at one point in time i even let myself think that Cam Newton would fall all the way down the draft to the Redskins with the number ten draft pick.
So, there i was just like every other year waiting for the Redskins to make their draft pick and i was pleasantly surprised.
Right before we were supposed to pick, i was informed that we had traded away our draft pick to the Jacksonville Jaguars for quarterback Blaine Gabbert.   At first, i was confused but after hearing more information i was happy.
After the draft was all over with Mike Shanahan was able to create 13 draft picks for the Redskins.
I would have to say not a bad desicion considering this team needs to completely rebuild and find youth.   Last season the Redskins were one of the oldest teams in the league.   And now, with all our new rookies we should be able to mold and create a young group of excellent football players.

No Comments »