Posted by
stevencole84
in
Uncategorized
, tags:
Briar Woods
,
Freedom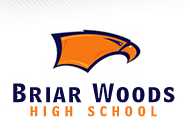 Monday Night Briar Woods hosted a Dulles District quarterfinal game. The game featured the Briar Woods Falcons hosting the visiting Freedom Eagles. Intensity was in the air for this Valentine's Day match up.
After Freedom had jumped out to an 8-3 lead Briar Woods knew they had to make some adjustments. Even distribution of the ball put Briar Woods in a position to shoot for the lead. Freedom tried to maintain a steady lead throughout the first half but Junior guard Myles Tate and the Briar Woods Offense was consistent. Every basket Freedom made Briar Woods had an answer for. Going into the half Briar Woods made a strong push for the lead to let Freedom know they weren't going down without a fight.
With a competitive game under way Briar Woods took their momentum from the end of the first half and applied it to the beginning of the second half. Briar Woods used an onslaught of presicion passing and off ball screens to open up the driving lanes for Myles Tate.
Freedom looked to Junior Guard Sean O'Rourke to try to shut Tate down. The two had been playing each other tight all night. Sean O'Rourke's hustle gave Freedom the opportunity to make a push for the lead.
Late in the Third quarter Briar Woods had the lead 32-24. However, Freedom's Sophomore forward Darren Hawkins had been cruising under the radar with his impressively steady game plan, and he was only picking up momentum. With time running out for Freedom Darren Hawkins put the team on his back. He provided Freedom with a scoring spark and continually crashed the boards to force second chance points.
Unfortunately, Freedoms efforts never amounted to a lead. Myles Tate was too much for Freedom's defense. He maintained the lead and the momentum in the final stretch of the game. His strikingly quick drives finished the Freedom Eagles off.
In the end, the team effort for Briar Woods was more effective than Freedom. The Briar Wood's Falcon's defeated the Freedom Eagle's 48-39.  Darren Hawkins was the majority points scorer with 20 points. In fact, it took five of Freedom's other players just to score 19 points.
Briar Wood's keys to winning included more of a diverse point distribution. Myles Tate scored 17 points. Junior guard Corey Faciane and Sophomore forward Matt Rolin each put up 8 points and four other Briar Woods players combined for 15 points.
Briar Woods moves on to the next round of districts where they will host Woodgrove High School on Wednesday, February 16th.

No Comments »