Posted by
stevencole84
in
Uncategorized
, tags:
Dez Bryant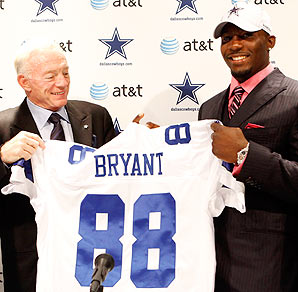 If your reading this blog than your probably a redskins fan. If that is the case then you probably thrive on watching the Dallas Cowboys stumble. Cowboys receiver Dez Bryant was ejected from an Dallas shopping mall after a dispute over dropping pants.
Bryant and three of his companions rolled up to the mall wearing their pants way too low.
A police statement on Tuesday says officers working off-duty on Saturday as security at NorthPark Center encountered Bryant and three companions.
According to the statement, when the officers asked the four to pull up their trousers, Bryant launched into a storm of profanity that prompted the officers to escort the four from the mall.
Police say Bryant refused to leave, however, until his "representative" could arrive and he parked in a fire lane until a friend arrived and persuaded him to leave.
No charge was filed. Bryant's agent, Eugene Parker, declined to comment. The Dallas Cowboys did not respond to requests for comment.

No Comments »